Overview of California DUI Expungement
Despite popular misconception, a driving under the influence (DUI) conviction in California does not go off of your criminal record in seven years. In fact, it stays on your record for life unless you are proactive and have the conviction expunged. A DUI may be expunged under California Penal Code Penal Code 1203.4. You can and should expunge a DUI conviction from your criminal record. It is important to note that a California expungement does not affect your DMV record. To learn more about the differences between a criminal record and a driving record you may reference this criminal record and driving record comparison article.
FREE DUI Expungement Eligibility Test
California law allows you to have your DUI conviction expunged if you are:
not currently facing any other charges
not on probation for another offense
your sentence did not involve state prison
If you are currently on probation you must wait until your probation is completed. You may also apply for early probation termination in order to get the expungement process started sooner. The law that defines probation termination is found in California Penal code 1203.3. If you were not placed on probation, you can have your record expunged one year after your conviction.
Certain driving offenses, like speed contests, extreme speeding, and reckless driving (even without alcohol), are also grouped together with DUIs and are expunged the same way. Take our free online expungement eligibility test to see if your DUI case qualifies for expungement.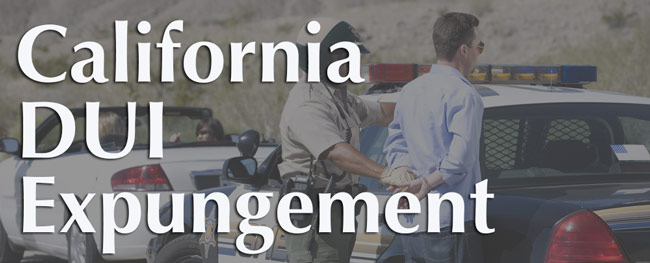 Why Expunge a California DUI
DUI expungement allows you to honestly and legally say you have not been convicted of a crime. Once your DUI conviction is expunged, it cannot be used against you when attempting to get a job or promotion. Otherwise, if you do not expunge your DUI, you will have a DUI on your criminal record for life.
If your DUI conviction was a felony that is eligible to be reduced to a misdemeanor, we will include that in the process at no extra charge.
We handle all aspects of the case for you and pay all filing fees for one flat-fee— and we even offer a money back guarantee. Check your DUI expungement eligibility or call for a free consultation at (877) 573-7273 .
Benefits of Having a California DUI Expunged
Tell employers that you were not convicted of a crime
Become eligible for some professional licenses
Apply for a change in immigrant status more confidently
Tell friends and family that you have not been convicted of a crime
Stop fearing or being embarrassed when someone does a background check on you.
Benefits of Using RecordGone.com
We are licensed attorneys who specialize in expungement and record clearing. We not only know what it takes to succeed, we also know how to achieve success in less time and for less money— guaranteed. We start working right away on all cases. We file 90% of our cases within 48 hours. so your record gets cleared sooner.
Our high volume of expungement cases allows us to charge less by spreading costs, such as costly trips to the court, among several clients. You can pay hundreds of dollars more to other lawyers who do one or two a month, or you can pay a low price to a firm that does several a day. When it comes to expunging, we believe we offer the best value and service.
Getting your DUI expunged can be the best investment you ever make. Having us clean your record can be the best decision you make. Why choose us:

You will be represented by a lawyer
Money back guarantee in writing – If we don't succeed, we refund our fee
Lowest price guarantee – We will match any attorney's advertised price
Fastest possible results – we start your case within 24 hours
We serve ALL of California
We pay the filing fees
One call starts the process — (877) 573-7273
Deep discounts for multiple convictions
Credit cards accepted
Flexible payment plans
We will write letters to potential employers explaining your case
To see what other services we offer in California, go to our California expungement services page.
---
Our Office Locations in California Visits by appointment only. See our locations nationwide

Please take the free online eligibility test before calling