Julianne Vandergrift
Attorney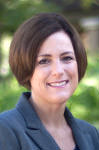 Ms. Vandergrift is licensed to practice in California (#285899) and Arizona (#030970). She earned her Bachelor's of Arts degree from Brigham Young University in Psychology and her Juris Doctorate from the University of La Verne's College of Law, where she graduated cum laude and was honored by her law school peers with the "Student of Distinction" award. She enjoyed working as a contract teaching assistant as well as a real property research and teaching assistant. During her third year of law school, Ms. Vandergrift earned the privilege of a one-year externship working for a U.S. Magistrate Judge in the Central District. While there, she refined her writing skills working on habeas corpus petitions.
Ms. Vandergrift is a certified mediator and says she "loves" helping people resolve their legal problems. She also volunteers with Saddleback Church's Parking Lot Justice campaign, which provides legal assistance to the poor and loves making a positive impact in her community.
In her free time, Ms. Vandergrift enjoys spending time with her six children, reading and riding her bike.