How to Rent an Apartment With a Criminal Record
---
People with criminal records are put in a very difficult position in society. When it comes to apartment renting, job hunting, and dating, virtually everything takes on an entirely different tone when it comes up that you have a criminal record that you're trying to work past. It's something you may be struggling with for years or, potentially, your entire life.
You can't change your past, but you may be able to erase your criminal records through record expungement or record sealing so that landlords can't see them. If you are ineligible to legally clear your record there are still some things that you can do to secure an apartment rental.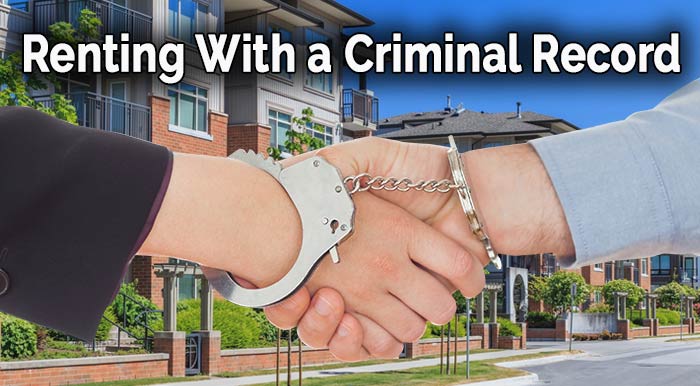 What to do when renting with a criminal record
In this article we will cover how to find out if you are eligible to erase your criminal record and what to do when trying to rent an apartment if you are ineligible to erase your record. The quickest and easiest way to find out if your record is eligible to be cleared is to take this free online eligibility test.
A good place to start when going about the apartment hunting process is to know what a landlord can ask you.
What Can a Landlord Ask?
One thing that tends to hurt people's chances of being approved for renting during the apartment searching process is not knowing what information a landlord is and is not entitled to. The landlord is someone you want to impress, so your instinct will likely to be answer everything possible. But you don't have to.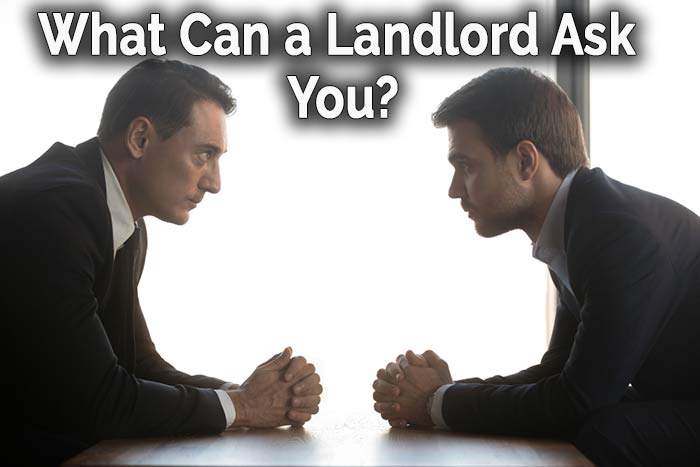 What questions can a landlord ask during the application process?
The first thing to know is that a landlord's set of questions must be uniform. What they ask one potential tenant, they must ask all. Anything else is profiling. A landlord can legally ask you the following:
Employment history: Having a longer employment history makes you a stronger candidate for renting. It shows that you have a dependable income. If your employment history shows that you change jobs frequently that may worry your potential landlord that you may not able to keep stable employment and be may not be able to pay rent. Having long gaps in your employment history is also a red flag to a landlord since it shows that you may have long stretches of time where you make no income.

The landlord will also want copies of your most recent pay stubs to make sure that you can afford the monthly rent. Acceptable reasons for having breaks in your employment history could be because you went back to school, had an illness, or stayed home to help raise a child.
Credit history: Having a strong credit score shows a landlord that you are financially responsible. If you have a poor credit score it shows the landlord that you may make poor financial decisions and may be unable to consistently pay rent.
Rental history: If your rental history shows that you switch apartments every few months then it shows the landlord that you may not be a reliable, long term tenant and may skip out of town without paying rent. If you have a poor rental history make sure that you have solid reasons why you left each apartment and that the previous landlord will vouch for your reliability.
Criminal convictions: If you have one or more criminal convictions, this can be a big problem when trying to rent. Landlords biggest fears are that you will get put in jail and not be able to pay rent, you will destroy their property, you will conduct illegal activities on their property, bother other tenants with excessive noise, or bring criminal acquaintances to the property that will endanger other tenants.
Social security number: This is used to verify that you are who you say you are.
Driver's license: This is also used to verify that you are who you say you are through photo verification.
Proof of citizenship (except in New York and California): If a potential landlord finds out that you are not a US citizen they might worry that you may be deported and your rent will not be paid.
The questions are designed to give them an idea of your quality as a tenant and your ability to pay monthly rent. Anything outside this scope is dubiously legal, depending on your state (for example, discrimination based on the nature of your relationship with a potential roommate). Landlords are trying to protect their property, assets, and current tenants. Your best move is to be as honest as possible. Be open and candid with your potential landlord. If you're trying to hide something, it makes you suspicious and a potential liability.
Renting an Apartment With a Criminal Record
The best option is to seek out a record expungement or record sealing. Expungement is the legal process where a court hides your criminal record. This doesn't make it completely disappear since certain government agencies will be granted access to the records., but a landlord would not be able to access your record once it is expunged. Whether or not you can have them expunged depends on several factors including: the nature of your crime, the policies of the jurisdiction your records belong to, the time lapsed since your conviction, and your overall criminal history.
However, some states don't allow expungement at all. You can also have your records sealed, which means they still exist but are not available to the public. This does not remove them from your record, however, and will count as a previous offense. So, let's say, for one reason or another, expungement is not an option. What can you do? Your ability to rent is not over. You have some options but it will take some work on your end.
Properties without background checks: you can find housing without having to subject yourself to a background check. When looking, inquire about what will be asked of you/what you will be asked to provide. If you do not have to subject yourself to a background check or volunteer conviction information, it will be easier for you to get the property.
Working with a reentry program: in every state and most major cities, you can find reentry program resources that help in a number of things. They'll help you find jobs, help you reintegrate yourself back into society, and help you find housing.
Be aware of income ratios: many apartment properties and landlords require potential tenants to make a certain amount against their estimated monthly expenses. For example, you may need to make 3 times the rent of a property to be considered a viable tenant. Do research on this and work with reentry programs to make sure you're doing all you can.
Rental history: if you have a good relationship with previous roommates and landlords, this is the time to cash in on it. Get as many glowing recommendations as you can to make you look like that much better of a candidate.
Offer larger security deposits: don't do this right off the bat, but if they seem resistant offer a higher collateral on the property to show good faith to your new landlord that you intend to take care of your home and intend to be a good tenant. Offer what you can and let them know you intend to be a perfect tenant.
Other ways to help yourself: if you have a good credit score and a solid work history, offer those up as well. If you've got positive records, go above and beyond what your landlord asks for to help your case.
Conclusion
The best thing you can do for yourself is expunge your records when attempting to rent an apartment, if you are eligible. If you are not fortunate enough to have a case that is eligible for expungement then follow the advice laid out in this article. Make sure to do what you can to make yourself as attractive a tenant as possible in every other aspect of your life.
If you would like to find out if your criminal record is eligible to be expunged or sealed, the quickest and easiest way is to take this free online eligibility test or call (877) 573-7273 for a free assessment.

For more information on record clearing and record expungement, visit our legal articles section.