How to Overturn a Conviction in New York
---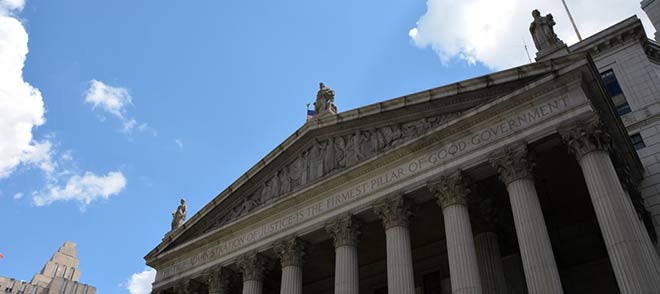 There are thousands of people in the State of New York that have been convicted of a crime and served the entire sentence, but are now wondering if there are any legal remedies available to attack and overturn the conviction and set it aside for ultimate exoneration. The answer is that the New York courts offer a statutory remedy for such relief and that, in the federal courts, a collateral attack on the conviction may be available by an action for declaratory judgment.
In NY State Court – Motion to Vacate Conviction
Under New York Criminal Procedure Law Section 440.10 (NYCPL § 440.10), "at any time after entry of a judgment," the convicted defendant may move to vacate it on various, specified grounds, which as specified in NYCPL § 440.10(1)(a)-(h), include:
Lack of "jurisdiction of the action or of the person."
Procurement of the judgment "by duress, misrepresentation, or fraud."
False material trial evidence "known by the prosecutor or by the court to be false."
Material trial evidence "procured in violation of the defendant's rights" under either state or federal constitution."
Defendant's incapacity "by reason of mental disease or defect" during trial."
Improper and prejudicial conduct not appearing in the record "but that would have required reversal on appeal."
Post-judgment discovery of new evidence that would have made the verdict "more favorable to the defendant."
"Forensic [deoxyribonucleic acid] DNA testing of evidence" with exculpatory results since entry of the judgment.
Violation "of a right of the defendant under the constitution of this state or of the United States."
Special provisions apply making the judgment easier to vacate in prostitution cases where "the defendant's participation in the offense was a result of having been a victim of sex trafficking." NYCPL § 440.10(1)(i).
Requirements Under Section 440.10 and Reasons for Denial
Some of these grounds involve issues that defendants might raise at trial or on appeal, so the statute demands or requires denial of a motion to vacate a judgment in certain circumstances. This is true if the issue was "previously determined on the merits upon an appeal from the judgment," except in the case of "a retroactively effective change in the law" in the meantime. NYCPL § 440.10(2)(a). The statute also requires the motion be denied if the judgment is "appealable or pending on appeal" or if the defendant unjustifiably failed "to take or perfect an appeal" during the period to file an appeal. NYCPL § 440.10(2)(b) and(c).
The statute does not demand denial but leaves to judicial discretion the ruling on the motion to vacate when facts support the motion, but "the defendant unjustifiably failed to adduce such matter prior to sentence and the ground or issue in question was not subsequently determined upon appeal." NYCPL § 440.10(3)(a). The motion may be denied if it raises an issue "previously determined on the merits" in a state or federal court proceeding other than an appeal or if the movant on a previous NYCPL § 440.10 motion "was in a position adequately to raise the ground or issue . . . but did not." NYCPL § 440.10(3)(b) and (c).
In one notorious case involving post-judgment forensic DNA testing of evidence, that of The Central Park Jogger, the five defendants convicted in 1990 on trial jury verdicts moved under § 440.10(1)(g) in 2002 to vacate the judgments against them after Matias Reyes, serving a life sentence for other crimes, declared that he in fact had assaulted, beaten, and raped the jogger. So clear and convincing was the DNA evidence testing and corroborating the declaration that the state government consented to the motions to vacate and recommended that ruling to the trial court, which in December 2002 entered an order to that full effect.
In Federal Court – Declaratory Judgment
United States Code Title 28 Section 2254 (28 US Code 2254) obligates:
"The Supreme Court, a Justice thereof, a circuit judge, or a district court [to] entertain an application for a writ of habeas corpus in behalf of a person in custody pursuant to the judgment of a State court only on the ground that he is in custody in violation of the Constitution or laws or treaties of the United States."
An individual who has served the entire sentence imposed is no longer a "person in custody" in the broadest sense of the term and so must be ineligible for habeas corpus relief. Under the Declaratory Judgment Act, 28 US Code 2201, however, "any court of the United States, upon the filing of an appropriate pleading, may declare the rights and other legal relations of any interested party seeking such declaration, whether or not further relief is or could be sought." An "appropriate pleading" might seek a declaration that the state prosecuted and obtained a criminal conviction in violation of federal law but only by alleging facts that fit within a narrow scope of permissible subject matter.
Jurisdictional Issues for Federal Courts
In Rooker v Fidelity Trust Co, 263 US 413 (1923), the plaintiff sued in a federal district court to have a judgment of an Indiana court "declared null and void." The Indiana Supreme Court had affirmed the judgment, and the Supreme Court of the United States denied review. The opinion, in denying review, concluded that:
"Under the legislation of Congress, no court of the United States other than this Court could entertain a proceeding to reverse or modify the judgment . . . To do so would be an exercise of appellate jurisdiction. The jurisdiction possessed by the District Courts is strictly original."
Sixty years later, in DC Court of Appeals v Feldman, 460 US 462 (1983), the Supreme Court reaffirmed and elaborated on the Rooker decision on subject matter jurisdiction:
"United States district courts, therefore, have subject matter jurisdiction over general challenges to state bar rules, promulgated by state courts in nonjudicial proceedings, which do not require review of a final state court judgment in a particular case. They do not have jurisdiction, however, over challenges to state court decisions in particular cases arising out of judicial proceedings even if those challenges allege that the state court's action was unconstitutional. Review of those decisions may be had only in this court."
In a collateral attack on a state criminal conviction, an "appropriate pleading" for a declaratory judgment from a federal district court would challenge a general aspect of the state criminal process rather than the state court's conduct of a particular case. As a hypothetical example, a challenge to a trial jury selection process for all cases would be justiciable while a challenge to the exclusion of a juror in a particular case would not.
Every civil lawsuit is subject to a statute of limitations. Federal courts generally apply state limitations. In New York, "an action for which no limitation is specifically prescribed by law," must commence within six years. New York Civil Practice Law & Rules, § 213.
Find more legal articles in our articles database.