How to Obtain Your Criminal Record in Texas
---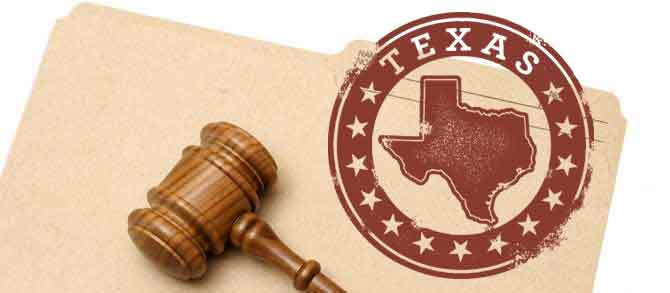 In the state of Texas, criminal records are maintained by various different governmental agencies. The primary repository for criminal records in the Lone Star State is the Texas Department of Public Safety - Criminal Records Section. The agency has established a procedure through which an individual is able to obtain a copy of his or her criminal history record.
Procedure for Obtaining Criminal Record from the Texas Department of Public Safety
The first step in obtaining an individual's copy of his or her criminal record is obtaining and then providing to the Texas Department of Public Safety a set of fingerprints. The state has entered into a contract with a third-party provider called MorphoTrust USA to oversee fingerprinting services in the state.
Actual fingerprinting can be provided at a number of different locations across the state that are managed by another company called IdentoGO. A person is able to schedule an appointment to have his or her fingerprints taken through a scheduling portal that can be accessed on the website maintained by the Texas Department of Public Safety.
At the time a fingerprint appointment is requested through the Department of Public Safety website, a person will also be provided what is called a Personal Review FAST Form. The form needs to be printed out and completed by the person desiring to obtain his or her criminal record.
Once the fingerprints are taken, the individual is then provided a duly certified fingerprint card. At this juncture, a person must mail both the completed FAST form and the fingerprint card to MorphoTrust USA for processing. The address for MorphoTrust USA is MorhpoTrust USA, Texas Card Scan, 3051 Hollis Drive, Suite 310, Springfield, IL, 62704.
A fee of $24.95 is associated with obtaining a criminal record. The fee can be paid at the time the appointment is set for fingerprinting. In the alternative, a person can send payment in the form or a check or money order at the time the fingerprint card and FAST form are submitted.
Once the information is received, a person seeking his or her criminal record typically receives that documentation within 10 days.
Other Resources in Texas to Obtain a Criminal Record
There exist other resources within the state of Texas through which a person is able to obtain a copy of his or her personal criminal history record. For example, courts and law enforcement agencies do maintain criminal history records in some form or another.
Each of these courts and law enforcement agencies maintain different procedures and fees associated with obtaining a criminal record. They do maintain similar request requirements that involve an application as well as provision of fingerprints for identification purposes.
The Federal Bureau of investigation also maintained criminal records that theoretically would contain information about arrests and convictions through state and local court systems in the state of Texas. With that said, the process for obtaining a criminal history record via the FBI is more cumbersome than the procedure established by the Texas Department of Public Safety.
How Long Does the State of Texas Maintain a Criminal Record?
The state of Texas maintains a criminal record indefinitely. State law does provide some avenues through which a person can eliminate access to a criminal record. In some limited instances, a person might be able to obtain an expungement of a crime (or crimes) contained in a criminal history record. Texas actually utilizes a process called expunction, which if successful results in the complete destruction of a criminal record. A person may also be able to obtain a judicial order sealing a criminal record. Both of these processes are complex and typically require the assistance of a skilled attorney experienced in these areas of the law.
Disputing Erroneous Information on a Texas Criminal Record
The Texas Department of Public Safety is only a repository for criminal records. Therefore, if a person desires to correct erroneous information on a criminal history record, that individual must address the agency that generated the document in the first instance.
For example, a local police department creates information that ends up in a criminal record pertaining to an arrest. Similarly, a court system generates information pertaining to a conviction for a crime. This type of data in turn becomes part of a person's criminal history record maintained at the Texas Department of Safety.
The reality is that mistakes can be made in creating and transmitting this data. The process of correcting erroneous information begins by identifying the agency that initially reported the data. The reporting agency is listed on a criminal record.
Once agency or court identification is made, a person then must contact that agency directly. Each law enforcement agency and judicial system maintains a procedure for dealing with correcting erroneous information on criminal records.
Many people are interested in obtaining a criminal record, and then correcting erroneous information within such a record, in advance of looking for a job. The reality today is that a majority of Texas businesses conduct extensive background checks before hiring, including obtaining criminal history records. For this reason, in order to ensure that a correction properly is completed, an individual may want to consider retaining the services of an experience attorney. Typically an attorney versed in sealing criminal records and expunctions in the state of Texas is familiar with the processes for disputing criminal history records. To see if your record is eligible to be cleared you can take this free online eligibility test.
Find more legal articles in our articles database.