Obtaining Your Criminal Record in New York
---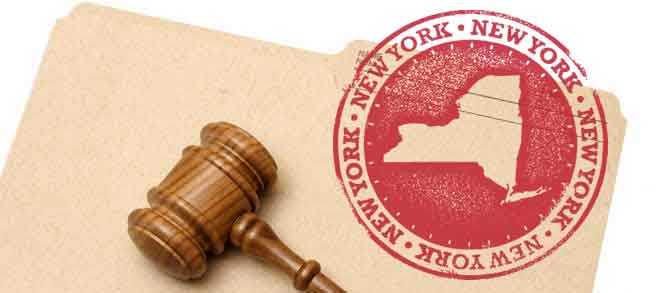 If you would like to know the extent of your criminal record in New York, there are several ways that you can procure this information. Many employers opt to complete a background check on prospective employees and being certain of this information can help you to identify key information. Additionally, getting your own criminal history can show you what your employer may find on you. You may also need to know about your criminal history if you are applying for certain types of professional licenses.
Central Repository - Division of Criminal Justice Services
You can contact the Division of Criminal Justice Services in order to get your criminal history in New York. There are two basic options through this route: an online request and mail request.
A. Online Request
Individuals can go to the Division of Criminal Justice Services website where they will be referred to a third party who makes the arrangement to procure this information. That company schedules a time for the individual to be fingerprinted. When the individual attends the fingerprinting appointment, he or she must bring two forms of identification and must pay the fee, which is $59.95 at the time of publication. The fee can be paid by check, money order, cash or credit card. The report will arrive seven to ten business days after receipt of the fingerprints. Note that if you were not fingerprinted after you were taken into custody or arrested, this crime may not be included on this particular type of report.
B. Mail Request
For individuals who are currently incarcerated or who prefer to mail a request to the Division of Criminal Justice Services, a request letter can be sent to the agency. The mailing address is:

New York State Division of Criminal Justice Services
Record Review Unit
4 Tower Place
Albany, NY 12203-3764

The fee for this process is currently $60.75.
For individuals who are unable to afford the fee for either of the methods discussed above, fee waivers are available. If you receive public assistance, you can copy your benefit card and mail it to the New York State Division of Criminal Justice Services for proof of your economic need. You will also need to complete a fee-waiver packet for this option.
Other Methods of Procuring Your Report
In addition to the methods discussed above, there are a few other ways that you can receive your criminal history report, including the following:
Court - If you know the court where you were sentenced, you can request a copy of the court records pertaining to each of your cases. You will need to complete this process for each separate court where you were ever tried for a crime.
Arresting Agency - You can also request your records from the arresting agency, such as the city police department or the county sheriff's office. However, beware that you may have been initially arrested for a crime but the actual crime that you were convicted of may be difference due to prosecutorial discretion.
Criminal Case - If you currently have a criminal case pending, your attorney should receive your criminal history from the prosecution.
Licensing Agency - If you were denied a professional license due to something in your criminal history report, you may be able to request the report from that licensing agency.
Incorrect Information
It is not uncommon for there to be mistakes on individuals' criminal history reports. Typographical errors may inadvertently change the type of crime that the individual was convicted of. Some reports may not show how a case was disposed. A case that should have been sealed may not be. Another individual with the same name may have committed crimes that show up on your report. Additionally, there may be discrepancies between reports because of a lack of communication between different agencies. Additionally, some courts or agencies may retain records for longer periods of time than other courts or agencies.
Contesting Incorrect Information
If you complete the online method discussed above, you will also receive a form that explains how you can challenge any information on your report that you believe is incorrect. A Record Review and Statement of Challenge should be completed to report the mistakes. This form is sent to the Division of Criminal Justice Services. Additionally, you will need to get an official disposition slip for the specific case from the court where the case appeared. This can be obtained from the court clerk. Send in the original disposition slip and the Record Review and Statement of Challenge to the Division of Criminal Justice Services. Provide specific details about why you believe the record is mistaken. Include your New York State Identification Number and your fingerprint card to expedite the process. An attorney may also be able to assist you with this process.
Find more legal articles in our articles database.