Get a Copy of Your Michigan Criminal Record
---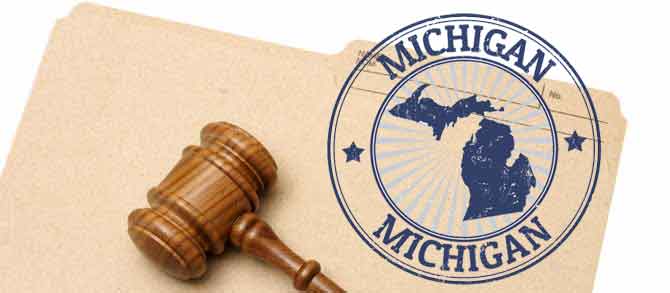 In Michigan, people need copies of criminal records for a number of reasons. Criminal records are required for concealed weapon permits, adoption, legal name changes and professional licensing. People who want to modify or have existing records expunged must request a copy. Identity theft victims also should request copies to make certain the perpetrator did not collect arrests or convictions under their names.
For whatever reason you need your criminal record, Michigan has set up a process to get them. Records can be obtained through the state's criminal record repository, the court of conviction and the local law enforcement agency.
Records Checks from the Central Repository
In 1968, the State of Michigan passed Act 319, which required uniform crime reporting to the State Police by every law enforcement agency and the courts. MCL 28.251 et. seq. Like all other states, Michigan has a central repository where records are held and maintained once reported. Michigan's repository is called the Criminal Justice Information Center, or CJIC, and is a division within the Michigan State Police. The CJIC provides ways to obtain your records.
1. Fees
Personal records obtained for adoption, visa, immigration or personal reasons require fingerprints. The fee is $30.00 payable to the State of Michigan and can be submitted by check or money order only. Fingerprinting costs are additional and vary per agency. Fingerprint-based individual checks provide all information to you. Name-based checks not requiring fingerprints cost $10.00 and only provide conviction information.
2. Process
Fingerprint checks are required for most purposes and provide the most information so is the best method to choose if you want a full picture of what is on your record. Checks for employment are generally name-based only and provide more limited information unless it is a licensing board, which requires fingerprint checks by statute.
1) Fingerprint-based checks
Michigan requires all fingerprint-based checks to be mailed. While there is no specific form, there is a procedure that must be followed.
Go to your local law enforcement agency with identification. Request your fingerprints be taken on a Michigan Applicant Fingerprint card (RI-8).
Complete the card in its entirety.
If you are not a Michigan resident but need your Michigan records, request your local agency print you on an FBI Applicant Fingerprint Card (FD-258) and write "Michigan Records Check" in the "Reason Fingerprinted" field.
Write a cover letter detailing why you are requesting your record.
You must include a return address in block F and also must include either a phone number or email address.
Mail the cover letter and the fingerprint card along with the $30.00 fee to:

Michigan State Police, CRD, Identification Section
P.O. Box 30266, Lansing
Michigan 48909.

Allow three to five weeks for processing time.
2) Name-only checks through Ichat
Name-only checks can be done to see anyone's records of convictions only, but these checks do not reveal nearly as much information. These checks are done online here. System users are required to set up an account with a valid email address as well as their own name and address. The ten dollar fee is payable using a credit card. In addition to the subject's name, their date of birth is also required to search via Ichat.
2. Does CJIC Ever Stop Storing Records?
Michigan holds records indefinitely. If records are expunged or "set aside", they will be moved from public view to non-public. Juvenile records are eligible to be set aside under MCL 712A.18e, which outlines the eligible juvenile offenses and procedure. A copy of the juvenile set-aside procedure can be found here. Adults who have only one conviction or one conviction plus two minor offense convictions can also apply to have their record set aside under MCL 780.621. A copy of the statute outlining the process can be found here.
Other Options - Obtaining County Records Directly from the Court of Conviction or the Arresting Agency
Individuals can request county-specific information through either their local court for the county of conviction or the original arresting agency. However, the information will not include records for any cases that occurred in other counties. You will need your case number to request the information from the court and will need to go in person with valid identification. Fees vary by agency.
How Discrepancies Can Arise and What to Do About Them
Inaccurate information sometimes appears on criminal records. This can be caused by poor communication between agencies, data entry errors and courts failing to report case dispositions. If you find erroneous information on your record, the CJIC directs you to get a certified copy from the court with the correct information and mail it together with a copy of the problematic section to:

Michigan State Police, CRD, Identification Section
P.O. Box 30634
Lansing, Michigan 48909.


The response time is typically 4 to 6 weeks.
Michigan's process to obtain records is fairly straightforward. Just make certain to follow the State's required procedures and you will receive your criminal records within three to five weeks. If there is incorrect information, you can challenge it and have it corrected.
Setting Aside Your Michigan Criminal Record
If you found that you do have one or more cases on your criminal record you may be eligible to set aside those cases to remove them from your record.
If you would like to find out if your Michigan record is eligible to set aside, the quickest and easiest way is to take this free online eligibility test or call (877) 573-7273 for a free phone consultation.
Find more legal articles in our articles database.