How To Obtain Your Criminal Records in Maryland
---
Maryland criminal arrest and conviction records are generally available to the public. They are essentially considered to be the "public's business." It is important to understand that criminal records are usually maintained in the central repository indefinitely. However, sealing or expunging a record can keep it from being seen by the public.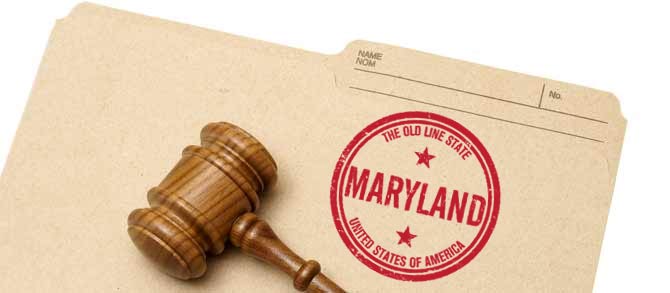 Maryland's Criminal Justice Information Repository exists within the Department of Public Safety and Correctional Services. The fee for conducting a criminal records search is $18.00. However, the state has strict requirements for obtaining one's criminal record. A fingerprint record must be submitted along with the required fee to begin the process.
Obtaining a Fingerprint Record
Those that currently live in Maryland can begin the process of obtaining their Maryland criminal record by going to a local police station to be fingerprinted using Form 011, the Maryland fingerprint card.
Those that do not live in Maryland must first obtain the fingerprint card (Form 011). To receive the fingerprint card, mail a form request to:
CJIS-CR
P.O. Box 32708
Pikesville, Maryland 21282-2708
Alternatively, the fingerprint card can be obtained by calling the CJIS-CR at either 1-888-795-0011 or 410-764-4501. Once you receive the fingerprint card, take it to a local police station to be fingerprinted.
To obtain your Maryland criminal record, you should mail the completed fingerprint card along with an $18.00 fee to the same address for the CJIS that is provided above. A check or money order should be made payable to CJIS Central Repository. Your criminal record will be mailed to you within about 15 days.
Inaccuracies in the Record
Once you receive your criminal record, examine it for potential inaccuracies. Occasionally, an individual's records may even get confused with those of a person with a similar name. If there appears to be an error in your report and the source of the information is a court record, written notice can be sent directly to the particular court where the record was either filed or created. Click here for contact information for the courts in Maryland.
Sealing a Record
Even when criminal records are accurate, there are certain records that may be sealed and kept from public view. A motion to seal a court record may be filed in Maryland cases. A judge must rule upon the motion. Depending upon the circumstances of the case, a hearing may be required for a motion to seal to be considered. If a Maryland judge grants a motion to seal a record, the records of that given case are actually enclosed in an envelope, and an official court seal is placed on the envelope. It may not be opened unless a specific court order in the future requires it.
Once a court record is sealed, prospective employers and landlords will not become aware of it. It may be true that a petition to unseal a record can be filed, but such a request must usually be quite specific for a court to grant it. Such requests to unseal records do not typically come from employers or landlords.
Expungement
In some instances, a request to expunge a record may be made. When a criminal record is expunged, it is typically destroyed and the criminal act to which it relates is treated as though it never happened. However, in Maryland, expungement does not result in the destruction of a document or record. Rather, it is hidden from public access. Therefore, current or prospective landlords and employers that order background checks will not be able to observe an expunged record. Once an arrest record is expunged, for example, a person can legally respond to any question about past arrests by acting like the expunged arrest never occurred.
However, it is important to understand that all arrests with fingerprinting usually go into a national database. These records will remain available for FBI background checks that relate to security clearance requests. Anyone that anticipates a potential future need for a security clearance should keep this reality in mind.
It is also important to understand that it is necessary to file a separate petition for each arrest date and a separate petition for each criminal charge that you want removed from your record. It is necessary to contact the court that first heard your case, whether it be a city, county or state court.
Since various Maryland agencies may have a given criminal record in their databases, it is always possible that a certain agency will fail to properly conceal an expunged record from public view. Therefore, it may be advisable to separately contact police departments, courts, and any other agencies that may have such records to ensure that each agency has acted in accordance with a court-ordered expungement. No assumption should be made that a given record has actually been expunged until a compliance letter is received from each and every agency that may have had the expunged record in its database.
A Gubernatorial Pardon
An application for a pardon can be filed with the state's parole commission, although the governor must ultimately grant the pardon. It can restore certain civil liberties, including the right to vote, that were taken away after a felony conviction. A pardon absolves a person of guilt, but it does not seal records and it does not expunge or destroy conviction records.
Find more legal articles in our articles database.