How to Get a Copy of Your Criminal Records in Indiana
---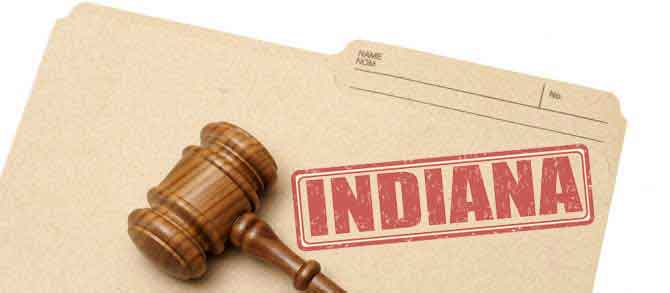 Obtaining your Indiana criminal record can be important for multiple reasons. Some people are turned down for employment, loans and education because of negative information their prospective landlords, employers or others have found on criminal background checks. Individuals may want to make sure expunged records have been removed or that inaccurate information is not contained.
There are several methods by which Indiana residents can get a copy of their criminal records history- the Central Records Division of the Indiana State Police, the courts, or the arresting law enforcement agency. This article will guide readers on the process, costs involved and instructions on how to dispute inaccuracies.
Requesting Indiana Criminal Records from the Central Records Division
Indiana, like all states, has a central repository in which criminal records are maintained. In Indiana, criminal records information are submitted by local law enforcement agencies and courts to the Indiana State Police Central Records Division. Dissemination of the criminal records information to most public agencies and private individuals is limited in Indiana pursuant to Indiana Code 10-13-3-27 et. seq. According to the law, only felony and Class A criminal convictions and arrest information is released to requesting agencies or individuals who are not the record subject, with a few exceptions.
Individuals can request a copy of their criminal record information in two ways, either by mailing in a request with fees and a copy of identification enclosed, or by going to a law enforcement agency or the Central Records Division at the Indiana Government Center, 100 N. Senate Avenue, Room N302, Indianapolis, Indiana, 46204 with identification. Employers and educators seeking the information can complete the form on the website with the fee or they can download the form and submit it via mail or in person.
Costs Involved
Whether submitting an online request, requesting in person or by mail, the fee for the records check is $15.00. For an employer or other individual conducting a limited criminal history record check for a permissible purpose online with a credit card, the fee is $16.32. If not paying by credit card online, the Central Records Division only accepts payment via certified money order.
The Process of Obtaining Records
When individuals, employers or agencies are requesting records regarding another person, they simply fill in the information, check the purpose for seeking the information and submit the form along with the required fee. The form can be located here.
People who are the subject of the record follow a procedure outlined by Ind. Code 10-13-33-1, which provides that such a person can receive a copy of their personal criminal history data by submitting a request, showing identification documentation and submitting a "reasonable fee". Additionally, if a records subject is denied employment, housing or etc. after another individual, employer or agency has received and reviewed his or her report, the person must be told that he or she was denied based on the report. The individual then has a right to obtain a copy of the prepared report from the Central Records Division and challenge any inaccurate information.
Does the Central Records Division ever Stop Storing Records?
The Central Records Division keeps records indefinitely unless a person successfully seeks expungement. In Indiana, the expungement laws were vastly widened and changed, allowing for a much larger subsection of the population to seek relief. People who have criminal convictions for Misdemeanors and class D felonies can seek expungement five years after the sentence completion. People with other types of felonies must wait eight years after sentence completion. People with arrests that did not result in conviction have a one-year waiting period after the arrest. There are certain offense categories which are ineligible for expungement. When an individual successfully has his record expunged, the records regarding the conviction or arrest are destroyed.
Other Options- Obtaining Directly from the Court of Conviction or the Arresting Agency
If you are the subject of a criminal record, you also can obtain information regarding the conviction directly from the court or the arresting agency. There will be fees associated with processing such requests that vary according to agency and jurisdiction. You will need identification in order to obtain your record in this way.
How Discrepancies Arise
Inaccuracies do occur. To that end, Indiana law provides in Ind. Code 10-13-3-31 that individuals can challenge the inaccurate information contained in their criminal records information. Discrepancies can be caused by poor communication between agencies, data entry errors, and the fact that some agencies store records longer than do others.
Disputing inaccurate criminal record information
The procedure for challenging erroneous information is covered under Ind. Code 10-13-3-33, which provides that upon an individual's record challenge, the Division will review the challenge and either correct the information, or instead, proceed to a hearing concerning the alleged inaccuracy.
In Indiana, it is possible to obtain your criminal record information, and to challenge or dispute any inaccurate information. With the great expansion of expungement law in the State, individuals have more avenues available for relief in Indiana than ever before.
Find more legal articles in our articles database.