Michigan House Bill 4186 Expungement Law Changes
---
Learn about the important new Michigan House Bill 4186 which will change expungement law throughout the state.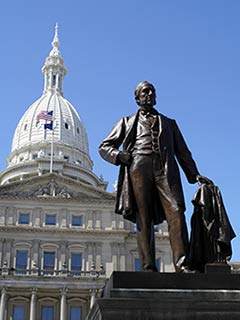 If you have only ever been convicted of one felony or one misdemeanor in Michigan, you have a chance at successfully requesting the court remove the offense from your record. Keep in mind that if you were convicted of more than one count or charge, even if the charges were on the same case, you have a more than one conviction. In addition to only ever being convicted of one crime, you must meet further eligibility conditions.
Your offense cannot have been: a crime punishable by life in prison; most sexual offenses; some domestic violence; stalking; causing death by explosive; swatting (tricking 911 systems into deploying SWAT to an unsuspecting victim's home under false pretenses); nor certain traffic offenses such as drunk driving.
Five years after you have been sentenced, or released from prison if you were sentenced to prison, provided that the above requirements are met, you are eligible to request expungement.
When you request an expungement, the court will set a hearing date. The prosecutor may come to your hearing and object to you receiving an expungement. If your crime was an assaultive or serious misdemeanor, the victim of your crime will be given an opportunity to object to your expungement. The judge will also want you to prove that you are deserving of an expungement. It is very important to have an attorney who specializes in expungement law represent you through this complex and tricky process.
House Bill 4186
On December 17, 2014, the Michigan Senate unanimously approved House Bill 4186. If this bill is enacted into law, you will be eligible for expungment if you have been convicted of a single felony and no more than two misdemeanors.
This is quite an improvement to the current single conviction constraint, and a major step forward for a state that has relatively archaic expungement standards. California, for example, does not have any restriction on the number of convictions an applicant can have and still be eligible for expungement. House Bill 4186 is supported by the State Bar of Michigan, the Prosecuting Attorneys Association of Michigan, and the Michigan Judges Association.
The bill would also expand the list of offenses ineligible for expungement to include second-degree child abuse, human trafficking, terrorism offenses, more sexual crimes, and domestic violence felonies for offenders with prior domestic violence misdemeanor convictions.
The proposal must head back to the House for enrollment before reaching the governor's desk for final approval.
Why Is House Bill 4186 so Important?
If you are like thousands of Michiganders, you have been convicted of two misdemeanors, or one felony and one misdemeanor, or one felony and two misdemeanors. Your multiple convictions could have even come from a single case.
Despite the lapse in judgment that led to your convictions, you are a good person. You have demonstrated that you are capable of, and enthusiastic about making a positive contribution to our society. Over the past five years, you have been law-abiding, and truly feel that you have turned a new leaf.
Perhaps you would like to return to college to finish your degree, maybe your job requires that you obtain a security clearance that requires a clean record, or perhaps you cannot find a job at all because employers automatically overlook hiring you after a background check.
You have completely remade yourself from the person you were when you were convicted. However, your old self's decisions are still holding you back from reaching your goals. This is one of the most hopeless positions in which you could find yourself. You have paid your debt to society, you have been released from punishment, but you are not free.
For the rest of your life, you will be punished by the state of Michigan. You will never be free to pursue opportunities that arise. You will never be free to pay the same rent as everyone else. You always be afraid of the police harassing you after you have told them that you have been convicted of a crime. Your stigma will never be washed away, no matter how reformed you are. Never.
So why even try to be an upstanding citizen if, regardless of your law-abiding conduct, you will be punished for the rest of your existence? Many people succumb to this logic, and their lives become predicated by criminality and recidivism. What House Bill 4186 will do is give you hope. Hope that one day, five years after you successfully complete your sentence, contingent on your following all laws and demonstrating reform, you will be welcomed back into society and given a fresh start.
My advice for former offenders battling against the system in order to integrate back into society and clear their records is best said by Ayn Rand. "Do not let your fire go out, spark by irreplaceable spark, in the hopeless swamps of the approximate, the not-quite, the not-yet, the not-at-all. Do not let the hero in your soul perish, in lonely frustration for the life you deserved, but you have never been able to reach. Check your road and the nature of your battle. The world you desired can be won. It exists, it is real, it is possible, it is yours." – Ayn Rand.
You can find more information on house bill 4186 here.
Find more legal articles in our articles database.